THE PROCESS: CREATING A CROWDSOURCED AGENDA TOGETHER
OpenMedia is a community-led organization. Our operational style is inspired by the open participation in culture and commerce enabled by the Internet, and we strive to crowdsource wherever we can (see Box 1). Our grassroots community is embedded deep in the DNA of our organization and regularly inspires us to push our work further than we could have imagined on our own.1
When asked for feedback on the campaign to stop Internet censorship in the TPP, the pro-Internet community strongly emphasized the need to create and sustain an international movement that will fight for Internet freedom at the highest levels of political decision-making.2 This feedback led us to help develop the Our Fair Deal network of 39 organizations from eight countries – including two thirds of the countries negotiating the TPP – that represent the interests of Internet users, schools, universities, artists, libraries and archives, consumers, information technology firms, and Internet businesses.
Beyond building a trans-pacific partnership of our own, we also launched our own decision-making process via "Our Digital Future." This initiative comes directly from the Internet community, who, during an OpenMedia online consultation, expressed the desire to collaboratively craft a plan for a positive digital future that will protect and uphold our individual and collective digital rights.3 In the spirit of the open Internet, we decided to develop our plan through a process that contrasts strongly with the undemocratic nature of the TPP. We've crowdsourced an open, transparent and collaborative alternative to closed-door decision-making. In this section, we describe how we did this, working with groups around the world in a multi-year project.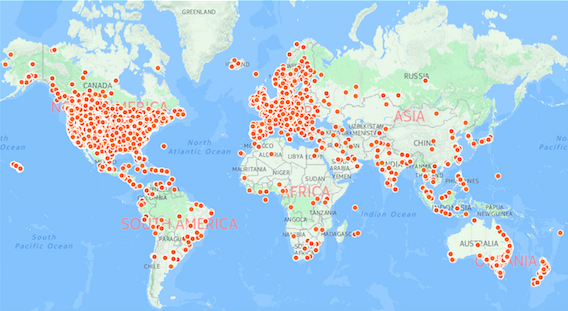 The response to "Our Digital Future" was fantastic. So far, an astounding 3 million+ people from around the world have participated in global actions to speak out against secrecy and censorship in the TPP, over 316,000 people have spoken out about TPP copyright censorship through OpenMedia alone, and over 40,000 people around the world participated specifically in our crowdsourcing project by using our drag-and-drop tool [Image 1].4 One of the greatest successes of this project was the creation of a global, pro-Internet community who we hope will continue to play an integral role in defining the open Internet. And we hope that decision-makers will recognize that this community has much to offer in helping us understand not only how we harness the possibilities of the open Internet to nourish a global culture of sharing and creativity, but also how we revitalize our democracy in the process.
Box 1: What is crowdsourcing?
"But crowdsourced volunteering activities are going far beyond coding or simple information sharing. Today, crowdsourcing is used to create and increase collective knowledge, community building, collective creativity and innovation, crowdfunding, and civic engagement."
-Bott and Young5
Crowdsourcing is the process of problem solving by seeking solutions through an open and public platform and in particular, through web-based technologies. Crowdsourcing comes from the technology sector, where it has been applied as a novel method of generating creative solutions; civil society groups and governments are only beginning to recognize that the public and web- based nature of crowdsourcing means it has potential applications for participatory democracy, and could be a new means of drafting public policy.6
Like most serious experiments with using technology to transform democracy, crowdsourcing is in its nascent stages. As a result, there are many questions surrounding the effectiveness of crowdsourcing at creating practical and inclusive public policy. Crowdsourcing experiments will encounter problems with the clarity, accuracy or representativeness of the input they obtain, and will need to seize these experiments as learning opportunities – they closely resemble the flaws we find in our current representative democratic processes, such as elections and regulatory hearings. As well, many of the social inequalities and exclusions that exist offline exist online as well – in some cases, they are even more pronounced.7
Nonetheless, we firmly believe in the potential of the Internet to revolutionize democratic decision-making, and that it is up to us to harness it. When it comes to the Internet and the age old matter of who gets what, where and when, it is important that those who will most feel the impact of decisions be in the driver's seat rather than unelected bureaucrats and lobbyists. This is precisely why we believe that when making laws that will greatly shape the future of sharing and creativity online, the first step should be to experiment with new forms of decision-making, such as crowdsourcing, that allow Internet users to inform law-makers about the real impacts that different approaches will have on their daily digital lives. By carrying out this experiment in crowdsourcing, we offer lawmakers insights into the expertise of the Internet community, the values that they hope will guide the evolution of our online culture, and their aspirations for our digital future.