SPOTLIGHT: KEY ONLINE CAMPAIGNS IN THE FIGHT AGAINST THE TPP
SPOTLIGHT: Key Online Campaigns in the Fights Against the TPP
StopTheTrap.net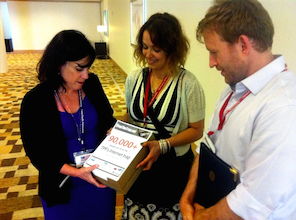 In July of 2012, in advance of the 13th round of TPP negotiations in San Diego, OpenMedia and partners launched our first online action to fight damaging IP provisions proposed in a leaked draft of the TPP. Internet users from around the world joined us in endorsing the following statement: "I call on the governments involved in the TPP to make the process transparent, accountable, and open to public participation and to all interested stakeholders."8
On July 7th, 2012, members of the StopTheTrap.net Coalition arrived in person to the negotiations in San Diego and delivered over 90,000 signatures – clocking in at over 1000 pages – to the USTR chief negotiator.9
As of the publication of this report, over 135,000 people have signed on to the StopTheTrap campaign.
OpenMedia.org/Froman
In May of 2013, immediately following Michael Froman's appointment as the United States' chief negotiator to the TPP, OpenMedia launched a campaign in partnership with Demand Progress, calling on Froman to uphold the rights of Internet users everywhere.10
Nearly 23,000 people signed on to the statement demanding that Froman, "Please respect our right to privacy and free expression online. We want you to publicly commit to remove all proposals in the Trans-Pacific Partnership that would criminalize or otherwise restrict use of the Internet."
StopFastTrack.com
In January of 2014, working with American Internet freedom group Fight For The Future and nearly 100 other partner organizations, we helped over 600,000 Americans tell Congress to stop Fast Track legislation that would have rammed through the TPP's Internet censorship plan without debate. Together, Internet users stopped the legislation dead in its tracks.11
StopTheSecrecy.net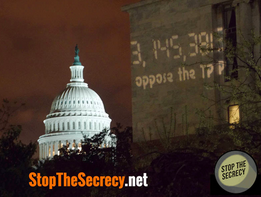 Our next step in engaging citizens to protect free expression and fight the Trans-Pacific Partnership focused on reframing the fight to encompass broader issues, via our Say No to Internet Censorship campaign in September of 2013, and in April 2014 through StopTheSecrecy.net [Image 3].12 13 Collectively with the online actions of all our coalition partners, over 3 million people in 155 countries have spoken out against secrecy in the TPP.
OpenMedia.org/Expression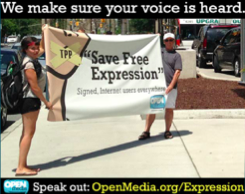 In our efforts to engage with Internet users, we also  organized a follow-up campaign focusing on intermediary  liability concerns and implored citizens from across the  globe to step up once again to speak out against the  Internet censorship plan in the TPP.14 In partnership with  Corporate Accountability International, Free Press, and  Fight for the Future, the action launched on July 10, 2014  [Image 4], just as Chief Negotiators were stepping in to  lock in problematic intermediary liability provisions, and garnered more than 60,000 sign-ons in less than a week
As of this publication, over 316,000 citizens have raised their voices online using OpenMedia as a platform, inspired by citizen comments and concerns, and calling for fair copyright rules to be included in the TPP.