THE FAIR DEAL COALITION
As part of the cabaret, OpenMedia announced the launch of OurFairDeal.org, and a coalition which has grown steadily to include 39 prominent innovative technology companies and civil society groups from countries participating in the TPP.18 Integral to our work on pushing for fair copyright laws, many of these organizations assisted with our crowdsourcing process. The coalition puts forward a positive policy agenda for copyright, and provides a place for citizens – over 19,000 so far – to sign on to a statement calling on decision- makers to stand up for accessible copyright:
"Please reject copyright proposals that restrict the open Internet, access to knowledge, economic opportunity and our fundamental rights."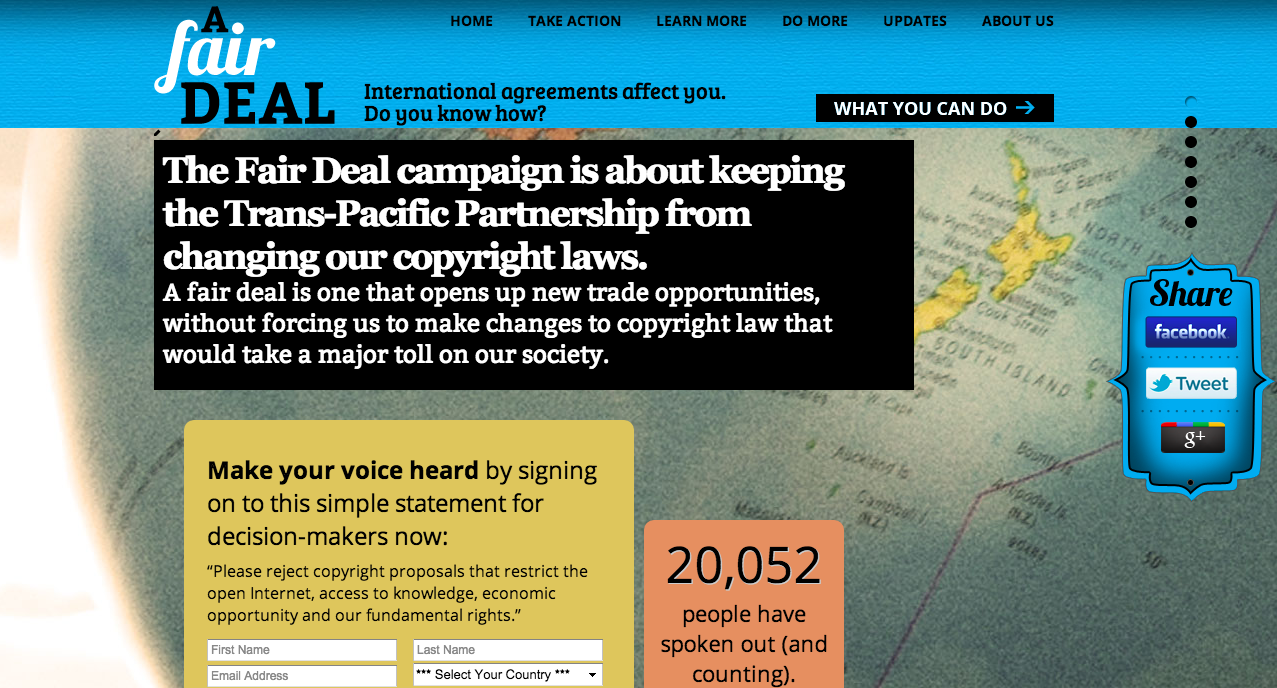 The web presence at Our Fair Deal.org acts as an educational resource and clearing house for member material [Image 6]. To facilitate information and strategy sharing, joint letters and outreach collaboration, OpenMedia hosts several mailing lists and regular conference calls.
Since its launch in the spring of 2013 the Fair Deal Network has led several initiatives, including meetings with TPP negotiators in several countries, distributed events,19 and leading international press outreach.20 21 22
In 2013, the Fair Deal coalition sent elected government officials in TPP negotiating countries a letter outlining our concerns and priorities for copyright policy.23 The letter was greeted with a positive response in several countries, including Canada where TPP negotiators have been holding the line on several key provisions like those pertaining to intermediary liability.24
A year later, in advance of the informal July round of TPP negotiations in Ottawa, Canada, OpenMedia put out two letters together with the Fair Deal Coalition and led by the Electronic Frontier Foundation, outlining the concerns of Internet entrepreneurs and civil society organizations about the Intellectual Property provisions in the TPP, as revealed in leaked drafts.25 26 27